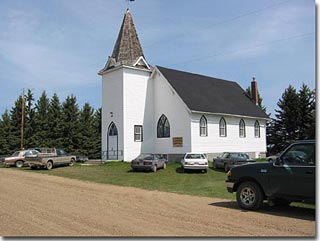 History of Vang Church
We who live in this present time find it hard to imagine the efforts which the first early settlers made in coming to this wild, untamed land, cutting down trees, pulling up all the roots, planting their first crops, building homes and schools in the community, and in establishing the Vang congregation.
It took a great deal of courage and strength to leave old homes in Europe or the U.S., travel for weeks by ship, locomotive or wagon and come to settle as pioneers in this new land.
The Vang congregation was organized at the home of Mr. & Mrs. Marit Jevne with Rev. Ellestad as chairman, May 18, 1899.
At that time much of the land in central Alberta was still unsettled.
The Congregation became a member of the United Norwegian Lutheran Church in Canada.
The founding members were:
Mr. & Mrs. T.R. Jevne
Mr. & Mrs. Ole Kjorlien
Mr. & Mrs. Thomas Dahl
Mr. & Mrs. Erik Skjel
Mr. & Mrs. T.T. Jevne
Mr. & Mrs. Ivor Kjos
Mr. & Mrs. Marit Jevne
Mr. & Mrs. Ole E. Rogne
Mr. & Mrs. Thomas Jevne
Mr. T.T. Weflin

Pastor Ellestad called a Minister to serve this new congregation. At this meeting, Oliver Kjorlien (3 weeks old) was baptized; the first baptism in the congregation. Also Mr. T.T. Jevne donated an acre of land for the church site. That land is the present site of the Vang cemetery.

The first Church Board elected were:
Deacons: Ole Rogne, Ole Kjorlien, Thomas Dahl
Trustees: T.T. Jevne, Erik Skjel, T.R. Jevne
Secretary: Thomas Dahl
Treasurer: T.T. Jevne

The first services for the new Vang congregation were held in homes and schoolhouses. The first confirmation class was held in the T.R. Jevne home.
The first confirmation class was:
Evan Jevne
Thorvald Jevne
Alfred Jevne
Annie Jevne
Oscar Kjos
Rose Skjel
Marie Berg
Clara Hougestol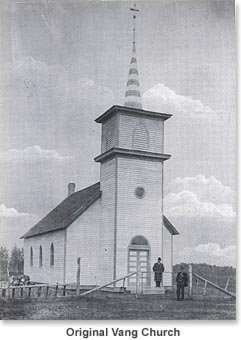 With the meagre sum of $187.50 and donations of hardware, lumber and labour, work started. The Church site was cleared, surveyed and fenced. Work on the new building began with Erik Skjel Sr. as foreman. T.R. Jevne had a sawmill on the south shore of Crooked Lake and the the lumber for the Church was sawn there. T.R. and his son Thorvald Jevne hauled the first load of lumber to the Church site.
The Vang Ladies Aid was organized in 1900 and the womens' "Busy Bees" raised money for the Church bell.
With everyone's help the new Church was completed and opened in 1905.
The name "Vang" was chosen as an expression of sentiment and yearning for home of the founding members - Vang, Valdres, Norway. (Click here for some information about Vang, Norway)
Rev. Satre built the first pulpit and donated the organ. Christopher Bakken donated a beautiful altar painting. Mrs. T.T. Jevne organized the choir, which she conducted for many years.
The first ever Congregational Meeting was held at the home of Thomas Dahl with Pastor Wik as Chairman.
Andrew Weflin was the first burial in the Vang Cemetery in 1900.
Until 1922 the services were conducted in Norwegian. After that they were conducted in English. Much credit over these years must go to the Ladies Aid for the upkeep of our church, painting and cleaning both inside and outside.
In the spring of 1931 the first Vang Church building burned down when a grass fire got under it during spring cleanup. But the spirit or 1899 was with our people, and within only six months a new church (the present one) was completed across the road. A new bell was donated by T.T. Jevne. The original bell was damaged beyond repair when it fell from the steeple during the fire. It was lain out of view in the trees nearby for a number of years and then was cleaned, painted and moved to the Vang Cemetery where it now holds sentinel over all who rest there.
In 1936 a parsonage for our ministers was purchased jointly with the Bethel congregation in Wetaskiwin. The minister then served both of the congregations.
Jenny Jevne was organist and choir leader from 1910 until 1922.
Carl Jevne then took over as choir conductor (1922 - 1953) and also spent many years as band leader (1924 - 1937). Ann Schneck served as choir conductor after Carl Jevne passed away. She was followed by Freeman Jevne.
In 1966, a fire broke out inside the second (present) church and badly damaged the interior. The building was saved though thanks to Neil Nelson who noticed the smoke while driving by, and promptly alerted a neighbor who called the fire department.
It was decided to rebuild. With much good will and co-operation the Vang community joined hands to restore the Church and make it what it is today.
During the rebuilding of Vang, our sister congregation, Bethel opened her doors to Vang, enabling us to worship there and make use of their facilities for choir practice. For their kindness we are very thankful. (Bethel later changed their name and today are known as Grace Lutheran Church in Wetaskiwin)
Winston Jordan and his daughters, Virginia and Patty Jo, were very active in directing and playing for the choir at this time.
During the years we have celebrated many anniversaries for our Church, including the 100th anniversary in 1999. We have had many special events and programs with a strong turnout from the community for these occasions.
May the Lord continue to bless our church and community as we seek to carry out his will in our lives and in the entire community.
Through 2007, Vang Church has operating for 108 years, has held 390 baptisms, 375 confirmations, 208 funerals and 170 weddings. 27 Pastors to date have served our great little Church.
Pastors who have served the Vang Congregation:
Pastor Wik (1900-1902) (Photo)
Pastor Nodtveldt (1902-1903)

Pastor Satre (1903-1906)

Pastor Sorhus (1906-1907)

Pastor Kjos (1907-1910)

Pastor Fosvedt (1910-1920)

Pastor Lie (1921-1924)

Pastor Borlaug (1924-1926)

Pastor Shilliaas (1926-1927)

Pastor Lunde (1927-1928)
Pastor Asper (1929-1933)
Pastor Ostrem (1934-1939)
Pastor Kandal (1940-1945)
Pastor Walker (1946-1953)
Pastor A.R. Melsnes (1953-1955)
Pastor L. Dahl (1956-1961)
Pastor I,A, Schultz (1961-1965)
Pastor M.B. Aadland (1966-1970)
Pastor D. Lang (1970-)
...
...
...
Pastor E. Nord (1984-1986)
Pastor H. Haugen (1986-1989)
Pastor L. Morin (1989-1999)
Pastor C. Nojonen (1999-2001)
Pastor L. Morin (2001-2008)

Pastor Louis Morin has served our Church for most of the past 18 1/2 years. Vang Church has never closed it's doors. It has always been a warm and welcoming place for community gatherings, picnics, fellowship and worshiping our Lord.

Many thanks to our pioneers and all our Pastors. We believe this heritage has been handed down for us to use and welcome you to join us at our quaint country Church any time.

This article written by Margaret Mullin