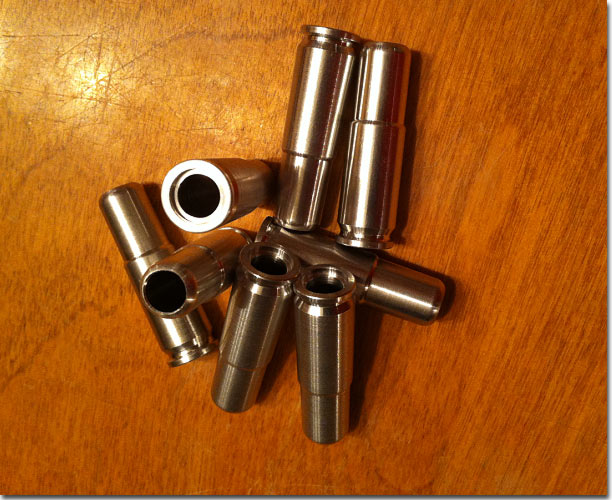 Our Tokarev Sportowy insert is machined out of aircraft grade 6061 -T6 aluminum.
The bore and the outside contour of the insert conform to SAMMI dimensions.
The inserts have been tested in 5 different pistols. These inserts worked flawlessly in all pistols.
The inserts that where originally supplied with the Tokarev Sportowy pistols showed considerable wear after only 2 or 3 firings.
Compared to the original inserts, these inserts appear to hold up much better to the mechanical influence of the extractor.
We test fired each insert up to 10 times.
If you plan on doing an extended range session, I recommend to bring a cleaning rod with a .22 cal nylon bore brush to scrub the inserts. The inserts can get a little sticky from the powder residue.
EACH of our inserts is measured and inspected for concentricity - as it comes out of the machine!!
If for any reason our inserts won't work in your gun, send me the inserts and the barrel, and I will machine the received amount of inserts to fit your barrel. All you pay for this extra modification is for shipping.
I will then provide a Lot # with your order, and if you need more inserts in the future just give me the Lot number.
*If the wear on the inserts is severe, meaning the rim is getting chewed up badly, I recommend to inspect the extractor for machining marks and burrs, and get it cleaned up.
Prices are as follows:
| | | |
| --- | --- | --- |
| 8 inserts: | $68.00 | ($8.50 apiece) |
| 16 inserts: | $132.00 | ($8.25 apiece) |
| 24 and more inserts: | | $8.00/pc |
GST Included in Price
Shipping TBA
To order, use the above email. Please use subject " Sportowy "
I prefer EMT.