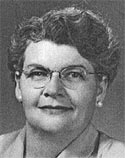 Topic: The Women of Aspenland
Article: Blanche (Brown) Recknagle
Date Posted: October 15/2012
Main District: Wetaskiwin
Decades: 1900's to 2000's

Blanche was born in Bradwardine, Manitoba on May 27, 1905. She was the eldest child of Theresa Maud Green and Robert Allen Brown. From Manitoba the family moved to Ontario and then back out west to Daysland, Alberta. Her father was convinced by his brother Harry to make this move and become a farmer. When her mother became ill, they left Daysland and moved back east. Her mother passed away at the age of thirty, leaving Blanche at the age of five and her brother at the age of three years.

After her mother's passing, the family moved back out west to Daysland where Blanche continued her education. Blanche then moved to Edmonton to train as a nurse at the Royal Alexandra Hospital. In 1927, Blanche came to Wetaskiwin and joined the nursing staff at the Wetaskiwin Hospital (the Wales Hotel). Here she became good friends with Florence Recknagle. Through this friendship, Blanche met and married Walter, on June 16, 1930.

Together they had three children: Maurice, Margaret and Donald. Blanche and Walter had a wonderful and happy life together. In 1982, Walter became very ill and Blanche looked after him in their home for as long as she was capable. Walter passed away December 14, 1984. After being together for almost fifty-five years, it was quite an adjustment for Blanche to live alone.

Blanche's involvement in the community seemed endless. As an avid reader she joined the Wetaskiwin Library in 1927 (the year it opened) and was given a Life Membership for her continued support. She also served as president of the Angus Ridge Women's Institute, which she joined in 1950. As a member, she was also a convention delegate and prior to 1967, a constituency convener. For a number of years, Blanche was the Health and Welfare Convener and often brought in speakers on relevant health issues.

In Red Cross work Blanche's activities have been numerous. She served on the executive for more than forty years, was a delegate to Red Cross conventions, did considerable knitting and packaging and was always on hand at the Blood Donor Clinics. Blanche was always willing to do more than her share of work. For as long as her health permitted, she continued to canvas for the Annual Red Cross Campaign. In May 1999, she became a member of the Order of the Red Cross, the highest award given out by the Canadian Red Cross Society for 'exceptional dedication and outstanding service'.

Blanche took an active interest in church work as well and for many years was a member of First United Church. She was a faithful member of the choir for over twenty-five years. She served as president and secretary at various times for the Womens' Association and as a group leader for many years. In 1953, she was president of the Red Deer Presbytery Women's Association. As a member of the executive for the first Womens' Association of Alberta Conference and U.C. of Calgary, she traveled to many areas of the province. Blanche served as secretary treasurer of the Wayside Chapel for three years. She always assisted with the annual Tea and Bake Sale.

Some of Blanche's leisure time was spent playing bridge with the local ladies bridge club and later at the seniors' center. She also liked to try and win at bingo.

Blanche has had the pleasure of seeing three of her grandchildren marry, and welcome the addition of two great granddaughters, seven grandsons and a great grandson. At the age of ninety-one, Blanche decided to give up some of her independence and finally relinquished her driver's license. Until that time, she was always giving people rides to their destination.

Throughout her lifetime, she had a habit of clipping interesting bits and pieces seen in magazines, newspapers. Blanche would use one or two of these thoughts or ideas (appropriate to the season or to the theme of the meeting) as part of an opening at one of the Women's Institute meetings or for the devotional at a Wayside Chapel's Womens' meeting.

On January 14, 1999, Blanche left her home on the farm for a new life at Madyson Manor, a seniors' residence in Wetaskiwin. This was quite a change, leaving a ten-room house to live in one room and have twenty-eight "roommates". However, she reacquainted with some of her old friends: Mary Meraw, Kay Law, Rose Fonteyne, and Mae Astle. As she did most of her life, Blanche continued to knit for the Red Cross making afghans for cribs. In May 2001, she attended the annual Royal Alexandra alumnae banquet for the nursing graduation class of 1926. This was to commemorate her seventy-five years as a graduate. In January 2002, Blanche moved to Unit 33 Long Term Care at the Crossroads Regional Health Authority in Wetaskiwin.

Blanche's home was an "open house" to all which included many transients in the depression years. During World War II, many young men in training made the Recknagles' a "second home." As the soldiers would march by, Blanche would often turn the radio up so they could hear it. There was no prejudice toward others in the Recknagle home.

Blanche, in spite of being a farmer's wife and raising a family, always found time to serve others. All her community work was done voluntarily. She was very concerned for the senior citizens and used her nursing skills as she went from home to home to see that they were cared for, day after day and even on Christmas day. She was called upon often. In one sense time was never her own. All this was done quietly and unobtrusively, for Blanche has never done this for personal glory.

Information compiled in 2002.
---