Home
About Us
Cattle Colors:
Fullbloods
Reds
Blacks

Cattle For Sale:
Bulls
Heifers
4-H Calves


RAPID CREEK MAINE ANJOU
Central Alberta Purebred Maine Anjou Cattle
Blacks: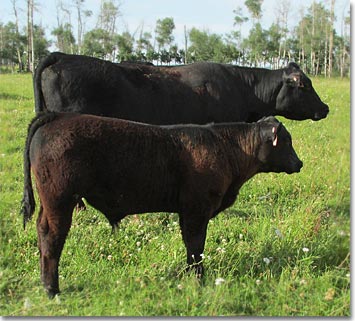 Our Black program started in the mid 1990's with our first purebred Black that we kept for breeding, Miss BVB 74D, born in 1994.
We had several females that we saved that year and put into our breeding program and they became our foundation of Blacks. "Miss BVB 103D" was another female that produced some awesome females down the road such as "Rapid Creek's Miss 208N" who Diamond G Cattle Company, Raymond Gonnet, purchased as a 4-H project and won many shows.
Bushy Park Farms purchased 208N from Diamond G after she raised a bull calf named "Blindside". " Blindside" is now making his mark in the Club Calf market across North America today.
---
Rapid Creek Maine Anjou is run on a family farm near Falun in Central Alberta, Canada consisting of:
Maine Anjou Cattle (Fullbloods, Reds and Blacks).
Breeding Stock (Bulls and Females)
4-H Calves (Steers and Heifers)
---
Rapid Creek Contact Information:
Brian & Sharon Brown
Phone: 780-352-9934
Cell: 780-360-1050
Fax: 780-352-8664
E-mail:

RAPID CREEK MAINE ANJOU
RR#5
Wetaskiwin, AB
T9A 1X2

Located approx. 4 miles north-east of Falun, Alberta
---
Started with Maine-Anjou Cattle in 1974
Rapid Creek is a Family owned and operated Business.